Sintesi wins four European Product Design Awards 2018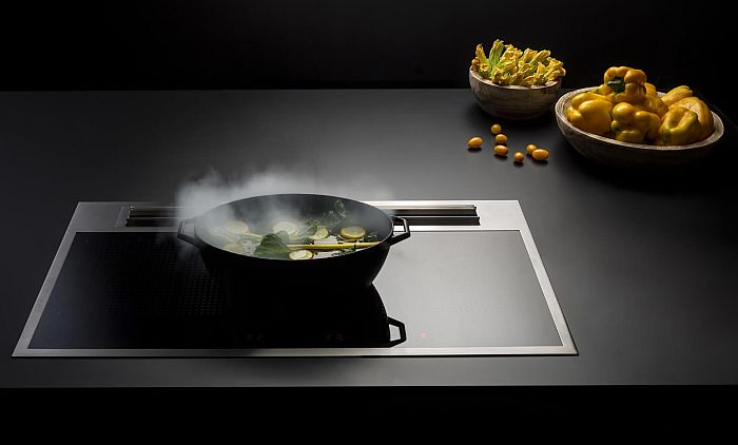 26/06/2018
Sintesi, the new integrated system by Falmec, has been awarded yet another important international prize. Sintesi started the year winning the Selection Iconic Award and it has now gained four European Product Design Awards; winning the Platinum prize in the Kitchen Appliances category and three Gold awards in the Household Appliances, Kitchen Furniture and Kitchen Accessories/Tabletop categories.
This outstanding result confirms the provenance  of real Made in Italy design and demonstrates Falmec's integral role as an international player. The European Product Design Award recognises the most functional, innovative and eco-friendly products of the year, that can work to actively improve our everyday  quality of life.
Sintesi charmed the jury, made up of design specialists and heralded journalists, with its unique design, performance and  singular form  whereby filtration and cooking work seamlessly together.
Sintesi is totally integrated within the worktop thanks to an aerodynamic air blades system, which is opened whilst  functioning, and then closed and perfectly aligned with the work surface when turned off.  This makes for a much easier cleaning and cooking experience.
Sintesi develops vertically – in the rear part – thus granting balanced aspiration, maximum use of inner cabinet space and reduced dimensions.
Thanks to soundproof materials and an A++ motor, Sintesi operates with quiet acoustics and benefits from energy saving credentials.
La marca italiana Falmec ha redefinido concepto de aspiración en la cocina, con una innovación revolucionaria que combina experiencia y conocimiento en la renovación del aire. El distribuidor oficial de la marca para el territorio nacional es Frigicoll, una empresa familiar española con 60 años de historia, pionera en la introducción de soluciones tecnológicas de marcas líderes en los sectores de la climatización, el transporte refrigerado, la hostelería, la refrigeración para supermercados y los electrodomésticos.