Frigicoll and cabinets from Liebherr: present at Vinorum Think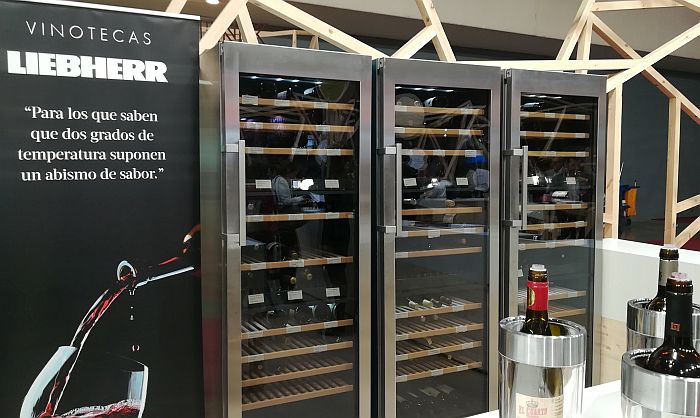 26/06/2018
Barcelona, abril 2018.- Frigicoll ha estado presente con sus vinotecas de alta gama Liebherr en la segunda edición de Vinorum Think, el espacio de la feria Alimentaria
Barcelona, April 2018.- Frigicoll was present with its Liebherr high-end wine cabinets at the second edition of Vinorum Think, the space at the Alimentaria Trade Fair devoted to knowledge, reflection, and publicity of the current trends in Spanish wine.
Vinorum Think closed its doors with a resounding success for the second year running, consolidating itself as a national highlight and a unique concept that combines quality wines, expert talks and exceptional matches of food and wine.
Frigicoll was present in this space, exhibiting several wine cabinets of its renowned brand Liebherr, highlighting the attributes that contribute to the perfect conservation of wines: its precise temperature control, optimised air quality, protection against ultraviolet rays and the elimination of vibrations and noise.
The unique benefit that the brand offers captured the interest of those present at the event, who enquired about the various functionalities of the different ranges of wine cabinets that Liebherr make and took part in a prize draw to win one of them.
More than 50 wineries stored their many varieties in the Liebherr wine cellars, with a total of 73 wines of very different styles and origins, but all of them with one factor in common: their excellent national and international reputation.
Over the four-day event, a series of varied activities were arranged, based on three main themes: Open Tasting, The Expert's View and Spain's Top, with more than 5,000 participants, who had the opportunity to taste some of the best wines from our country, listen to experts in the world wine field and find out about the latest news in the sector in Spain.
The Expert's View was a full house in every session that was scheduled. Among the guest speakers were Richard Juhlin, the world's no.1 expert in champagne, renowned for his blind tasting skills, and Pedro Ballesteros, Spanish Wine Master.
The New York Times wines and gastronomy critic, Eric Asimov, led a session about the wines that seduce the US market and confirmed that the ones that really convince are the authentic products, "that show the origin, the terroir", while "those created in an industrial manner are rejected".
Once again Liebherr, the brand distributed by Frigicoll in Spain, is strengthening its high-end positioning in the Premium kitchens segment, as an expert in cold storage. Liebherr wine cabinets are renowned for quality, design, and innovation oriented at the precise control of wine's temperature so that its palate is exquisite and its preservation optimal.
Frigicoll is a Spanish family firm, a pioneer in the introduction of technological solutions of leading brands in the sectors of hospitality, air conditioning, electrical appliances, refrigerated transport, and refrigeration for supermarkets.