De Dietrich launches its new models of ovens for this year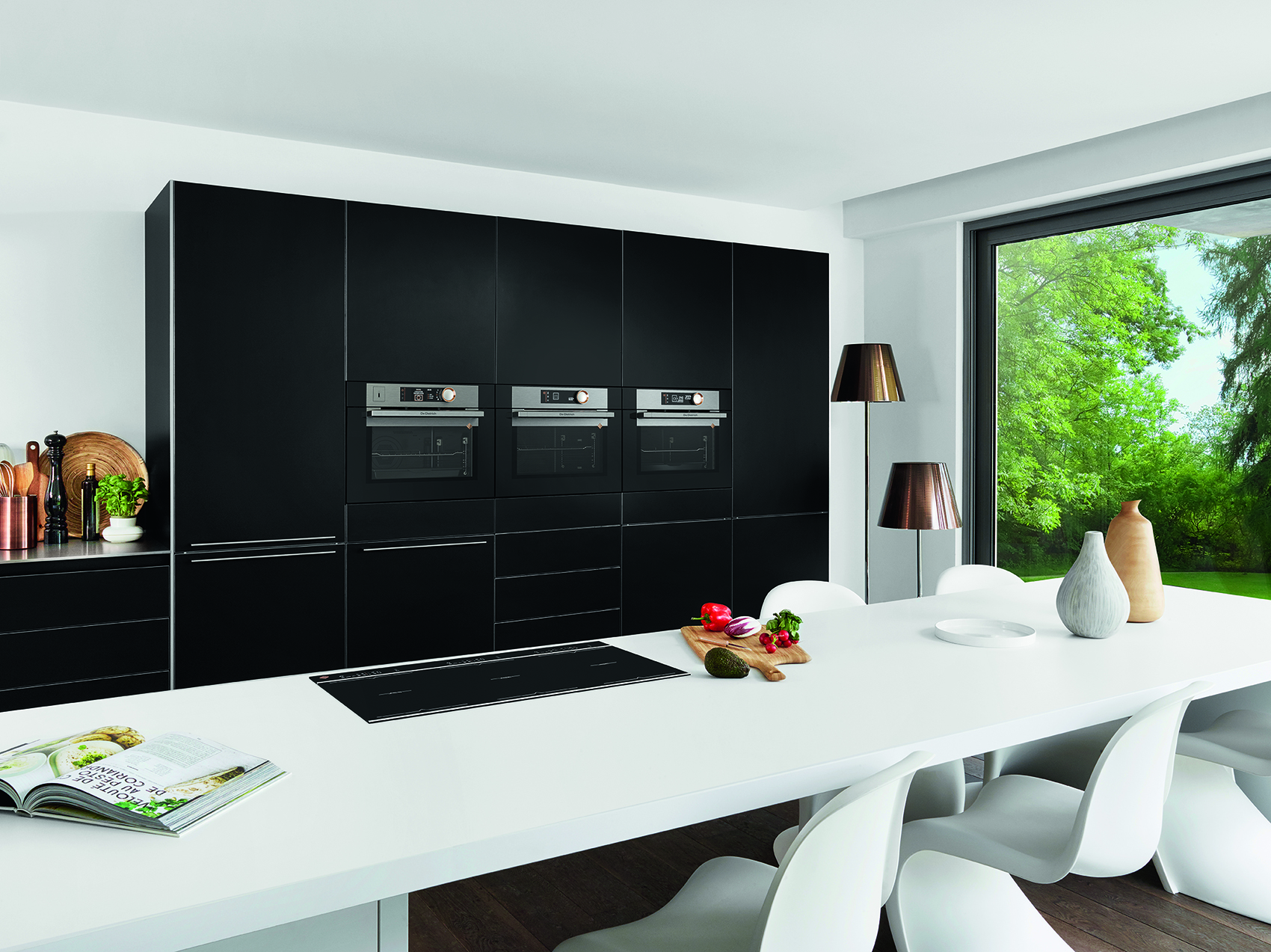 13/07/2018
The French brand De Dietrich presents its new products in ovens for high-end cooking.
The outstanding feature is the new Fascination range of ovens, available in four exclusive collections: Absolute black, Iron grey, Pure white and Platinum. Different colours, a combination of materials and a mixture of textures such as cast iron, glass or copper, make this new collection a benchmark for design and innovation. So much so that some of its models have been awarded the Red Dot International Award, a prestigious international award for design and innovation.
The new design of Fascination ovens is remarkable for its elegance and attention to detail. De Dietrich reinterpret timeless materials such as iron or copper, leading design to excellence in terms of finishes and quality, aesthetics and functionality. Its distinctive features include its robust handle, a platinum and copper selector to display the intuitive controls, and a door made of elegant black glass, in iron grey or pure white on which De Dietrich is proud to stamp the emblem of its brand.
These ovens possess state-of-the-art technology, in which cooking at low temperature has been built in as standard with the other cooking modes. This mode stands out for being fully automatic, thanks to a humidity sensor that detects the weight of the item to be cooked and adjusts the cooking settings accordingly. In addition, the cooking temperature is even and regular, always below 100ºC and allows cooking any product perfectly without drying it out. Accessing this program could not be simpler: You only have to choose the dish you want: lamb medium rare or well done, roast veal, chicken, fish … so that the oven will automatically start the desired cooking.
Another new development in terms of ovens is the presentation of a new 60 cm multi-function oven with pyrolytic steam, and another 45 cm oven that combines multi-functionality with 100% steam cooking capability.
Another outstanding feature is the rotating and combined heat. With a perfectly uniform distribution of the heat produced by an element located around the turbine, the Combined Heat is especially designed for moist type cooking of cakes or pizzas. This technique also means saving in terms of energy. The increase in temperature is very fast, so the preheating phase is eliminated.
Rotating Heat is the only procedure that makes it possible to preserve the delicate texture of white meats, the aroma and flavour of papillotes, or to cook different dishes at three levels simultaneously, while respecting the aroma of each of them.
To conclude, we would like to highlight the dryer function Secado and the function Sabbat. De Dietrich have given their new ovens a function that you will not be able do without from now on. The dryer function carries out a dehydration process that enables it to dry a wide variety of different foods (aromatic herbs, fruit or vegetables) at a perfectly controlled temperature of between 60 and 80 °C. By preventing the proliferation of bacteria, one can thus conserve them for several months, as well as preserving essential nutrients such as minerals and vitamins.
The Sabbat function is Ingenious and practical. De Dietrich innovates by introducing two new ovens equipped with a special function it calls Sabbat. This programming mode allows the oven to operate with complete autonomy for 25 hours and up to 75 hours, if necessary. The flow of electrical energy keeps the cavity at a constant temperature of 90 °C, to cook or to keep items warm, without the need for a thermostat. The internal light stays on for the whole of this time, even with the door closed.
The official exclusive distributor for De Dietrich throughout the national territory is Frigicoll, a Spanish family firm with 60 years of history, a pioneer in the introduction of technological solutions of leading brands in the sectors of air conditioning, refrigerated transport, hospitality, refrigeration for supermarkets and household electric appliances.